I had the thought this week that I think surely I've by now figured out all the buttons and have my feet wet enough in the blogging world to actually write about My Painted Porch :)! Just to let you know...I really have no intentions of this blog being all about business. I'm a people person...I love to talk, and listen, and really hear. I love people who are earnest, honest, aren't afraid to show a bit of vulnerability, have that wonderful ability to laugh at themselves...just share a bit of themselves. That's why I think it's so awesome that I get to do what I do, often in my pj's which I'm sure I must have mentioned before as that's pretty hard to beat, but...that I get to meet even if only online, so many wonderful and amazing people with real lives and hear their real stories, is even harder to beat. Where that becomes most evident and special for me is in the custom orders. So many, many e-mails back and forth trying to determine a customer's likes, dislikes, that of their family's, get a sense of their personal style, determine what decor they have, color schemes, their lifestyle...I even know their dog's names and they know mine! You can't help but get to know and learn each other...I love it! There have been many, but I wanted to share a few here of the very special and memorable projects that stand out to me. Yes, of course for the work and the end product, but I think just as much for the experience itself in learning others. I've come to realize, that a custom sign is never about just a sign...
I had a customer last year who had requested a sign. I didn't ask questions except for those aimed only at trying to arrive at what the customer was really looking for...preferred font styles, colours, contour, size etc. Once the sign was ready for shipping, she shared this wonderful story with me as to how the sign idea came to be. She was a mom to two growing-to-be-very-independent, teen aged kids who, as all mothers know of kids coming into that age, develop a sudden dislike for hanging out with their parents. They outgrow the need to be tied to Mom and Dad, having their own friends and different interests, and the times that they choose to grace the rest of the family with their presence, become more and more rare.
Natalie's family had decided to plan a vacation together to Quebec (they were from NY)...after all, who knows how many vacations can still be taken as a family when your kids enter 'the age'. After a lengthy travel and full day, they were tired, hungry and giddy and having dinner that first evening in a restaurant, they spotted a writing on the wall that read in French "life is too short...eat your dessert first". Soon the giddies turned to bellyaches and tears in their exhaustion and at that moment, Mom was all too suddenly aware that this could very well be the last family vacation they would have together with their children as 'kids'. And so to capture the moment, was born the idea to have a sign created for her breakfast nook, reading those words that had them so in tears with laughter, to serve as a reminder to the entire family, of the togetherness they enjoyed and shared as a family in this one moment in time that would forever be in her memory. Of course being the sap that I am, I bawled like a baby (perhaps hormonal...everything with me these days is!)...it was a moment in her life that I as a mom to a 22 yr old could so relate to. I knew where she was in her thoughts and what she was feeling, and it was such an honour to know that I had in some small way, created by hand what a mom was feeling in her heart. To anyone else, it looks like a sign, like any other sign...but not to me, and most certainly not to her and her family. This was her moment frozen in time...
Another I have to share, was from a customer in South Carolina with a very interesting background, who told me of the history before we began the whole creative process. She first sent me photos of her incredibly grand kitchen which was beyond words and nothing short of gorgeous, gorgeous, gorgeous! It included a skillfully crafted island, complete with turned legs and great detailing, faux finished and antiqued to perfection in a steel blue colour but with a very unique wash as a final touch...the entire piece a true scene stealer. Her history goes something like this...
The Cafe des Trois Renards was a hotel/restaurant that her grandparents owned in Tassin-la Demi-Lune just outside of Lyon, France. Her mother's family moved there after being forced to leave their beloved Algeria, during the independence in the 60's. They had owned a cafe in Algeria for decades. The French government of France tried to provide equivalent businesses for these exiles, hence "Les Trois Renards" which her grandparents ran until their death. Years prior to that, when she was a child, her mother - who came to America as a French war bride - took them to Europe to meet her family. Even then at a young age, she recalled being smitten -- with her grandparents, with the country, cafe, and customers. She returned year after year following that introduction with so many bon souvenirs, and this would be one to pay homage to her heritage and her parents, serve as a momentum to all they endured in their journey to rebuild their lives, and allow her to proudly display a piece of her history and all she had grown to cherish and hold dear to her.
With matching colors via e-mail and websites, we were able to come up with colors and techniques so as to not have the sign match identically to the island, but rather compliment it and the kitchen as a whole, and give it the attention and spotlight it so deserved.
Thank you so much Monique, for allowing me to play a part in that. It was a true pleasure. This creation was approximately 24" x 40".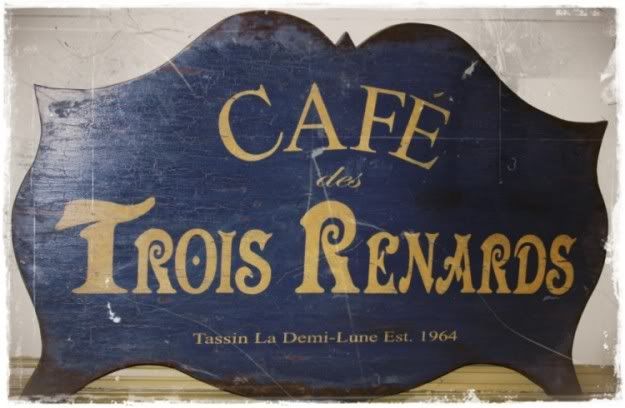 Another 'custom' story I have for you warmed my heart beyond words being the romantic that I am. The sign itself is going to look really similar to the first 'custom' sign pic I've included in this posting, but the story...be still my heart, read on...
I received an email on one very cold January day in Canada, from a lady who wrote the following..."My husband and I have set up an "antique" bistro table and two chairs in a sunny corner of an upstairs room in our home. We have lunch there on cold but sunny days. Some say this is a little eccentric, but at 75 and 86 years of age, we feel perfectly justified. We enjoy our beer, Camembert and baguette in this cozy nook".
I was so moved by her mail, as I've so imagined Joe and I at that age, still totally in love, stealing our quiet time in a back room of our home, and imagining ourselves to be anywhere we want to be. To know that I could somehow help to create a sense of romance and sanctuary to a couple who so deserve and enjoy the little luxuries in life and together...was uplifting! I have tremendous respect and admiration for those who have lived and loved and raised families thru thick and thin, and so genuinely thrilled for those who still have such big love in their lives in each other in the end. Ahhhh...it's Henry Fonda/Kathryn Hepburn stuff isn't it? I know it...I'm such a sap... I cried at that e-mail too!
I so hope you are both enjoying every morsel of sun that has seen Pennsylvania in your very own BISTRO and I will never forget you...you know who you are :). We downsized our large BISTRO sign from 36" to 8 x 28" to accommodate their space. This is her creation...

And
I will make this my last for the night, but I CANNOT forget the most wonderful and at the same time, harrowing experience of a custom order yet and she will be laughing when she reads this.
Back in December of last year, I received a request from a customer for something big and something french. Following several e-mails with attached pics of her dining area, we tossed ideas back and forth, back and forth, samples galore of various text styles, sizes, sign contours, colors and in the end, what was the result was nothing short of GORGEOUS!! I couldn't wait for her to receive this huge and wonderful creation just as she had envisioned...it really was exquisite in person and all so carefully chosen right down to the smallest detail. And so, off it went, Chicago bound.
Now Cda Post has this thing where once a package reaches a certain girth and weight, they won't handle it. And so, a major courier (who shall remain nameless but forever embedded in my brain), ensures safe delivery with very careful packaging (according to me) and loads of insurance. Anxiously awaiting for her e-mail exclaiming "it's arrived...and it's GORGEOUS!", I ck my inbox to find "it's arrived, and it's GORGEOUS, and it's DAMAGED!". Both equally devastated, we struggle desperately to find a solution. Following several angry phone calls from both sides to the courier company, we find that our only options are for her to ship it back to me at 'couriers' ridiculous charges, and I reship back to her or...have her try a repair by distance. Finally arriving at the only sensible solution, she and I set out by email and long-distance phone calls, to repair a piece which I would like to think only I can fix :). Well... following many giggles, even more e-mails and oodles of detail and step-by-step instruction, mission accomplished, when I receive her email exclaiming "It's hung!" I attempted to count our e-mails from the onset of Di's project request to the final repair, and stopped at 56!! Then we laughed at the withdrawal symptoms we were both having after no longer having to communicate concerning our beloved sign. This is a pic of our creation...I believe it was in the area of 32" x 44.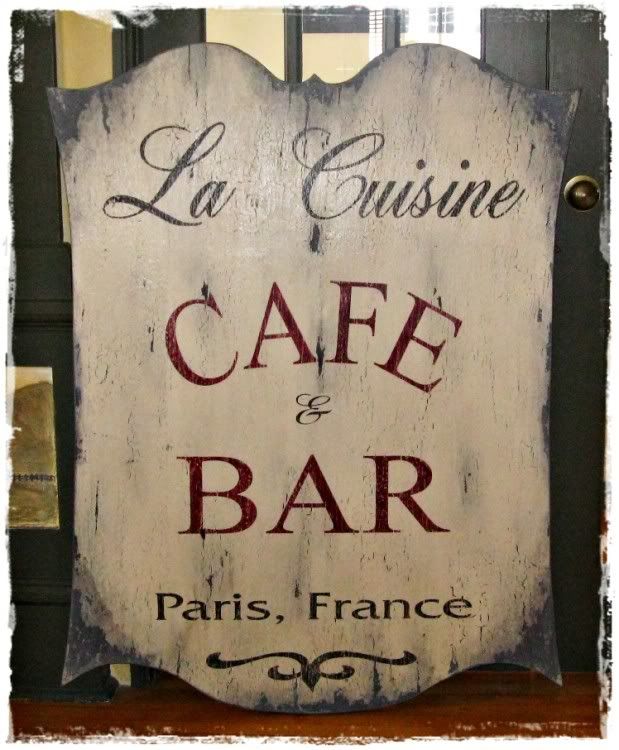 Truly one of the most wonderful customers and people I have ever had the pleasure of knowing across the miles. During that whole time, and thru all of the mails, we got to know each other, share a bit about our personal lives, our children, husbands and yes...even our dogs!
The more I meet people in this new generation of business online, the more I like it. So many different people, from all walks of life, each with a story who inspire you almost daily, and in your pj's no less! I love my job!!